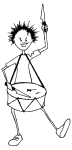 EN HÄLSNING FRÅN ROGER KARLSSON
***************************************
Kära vänner!
Nu är det snart dags att äntra scenen igen. En lång välbehövlig paus har övergått i frustration och akut spelbehov. Dags att släppa hästarna fria!
Onsdag 7 mars på Etablissemanget, Södra Teatern, Stockholm.

Det är ju jag då, förstås, som ylar och drämmer på ak.guran.
Och så
Bästa Bandet
bestående av: Janne Ljungwaldh gitarr, kör, Lotta Nilsson kör, Rickard Donatello bas, Kjell Allinger hammond,
Micke Svahn piano, Peter Hjerpe trummor.
Vi går på kl. 21.30 och 80 kronor kostar det.
Låtar från samtliga plattor, en cover och så eventuellt nån återfunnen Tuk tukpärla!
NYA RELEASER
***************
Dennis Och Dom Blå Apelsinerna släpper skiva!
Dennis Och Dom Blå Apelsinerna sammanfattar sin karriär med samlingsskivan "Vad Gör Våran Olja I Eran Mark?" 30 låtar. (19 Studio och 11 Live) Ute i april.
Det hela firas med en Releaskväll på Snövit Fredagen den 13 April. På scen står Ohlson Har Semester Production Som blandar "Blå Apelsinlåtar" med sina egna, samt
deras vänner i Derby STHLM.
SPECIALPRIS VÅRA SENASTE RELEASER
***************************************
(Köp Gamla Pengar och Le Muhr i ett paket fram tom 15 mars så får ni dom för 140:- inklusive porto) Betala in på 452 30 60 - 5 och ange ditt namn och adress + "gamla lemuhr paket"

Le Muhr - Flickorna på klubben tygpåse med downloadkod 100:- + porto

För bild och fullständig info se här
http://enannandesign.se/transport/Pressrelease_Flickorna_pa_klubben.pdf

Gamla Pengar - Stekt orm 5 spårs vinyl 7"
40:- + porto


LIVESPELNINGAR
*****************
COCA CAROLA

26-30 juni Borlänge Peace & Love
http://www.peaceandlove.se
GAMLA PENGAR

16 mars Malmö Debaser
23 mars Göteborg Vansinnet. Gamla Varvsgatan 1 "For the Love of Rain Konstutstälning" med Inkvisitionen & Dull Skulls
ROGER KARLSSON

7 Mars Stockholm Mosebacke
31 Mars Eskilstuna Ölföreningen Eskilstuna
KÖTTGROTTORNA

31 mars Lindesberg
27 april Stockholm Snövit tillsammans med Va..!
OHLSON HAR SEMESTER PRODUCTION

8 april Haninge-Gula Villan (Påskpunken)
13 april Stockholm-Snövit (Blå Apelsinfest)
12 maj Köping-Ögir (Birdnest 30år)
Beat Butchers
Email: info@beatbutchers.se
Hemsida: www.beatbutchers.se www.myspace.com/beatbutchersse http://www.facebook.com/BeatButchers